If you are looking to work as an independent rider, you'll find Favor a great platform to start with. It is a Texas-based business and hires riders or 'Favor runners' as they call it, to deliver food and other items to all their customers.
The best part is the app allows you to work on your own schedule; i.e., you can work when you have the time or wish to work. Plus, all the tips you get from the customers are yours to keep!
In this review, we'll cover everything you need to know about being a Favor delivery driver and why it's one of the best food delivery apps to work for along with DoorDash, Uber Eats, and Instacart. We recommend signing up for multiple delivery apps to diversify your income, get more delivery opportunities, and so you're not reliant on one app.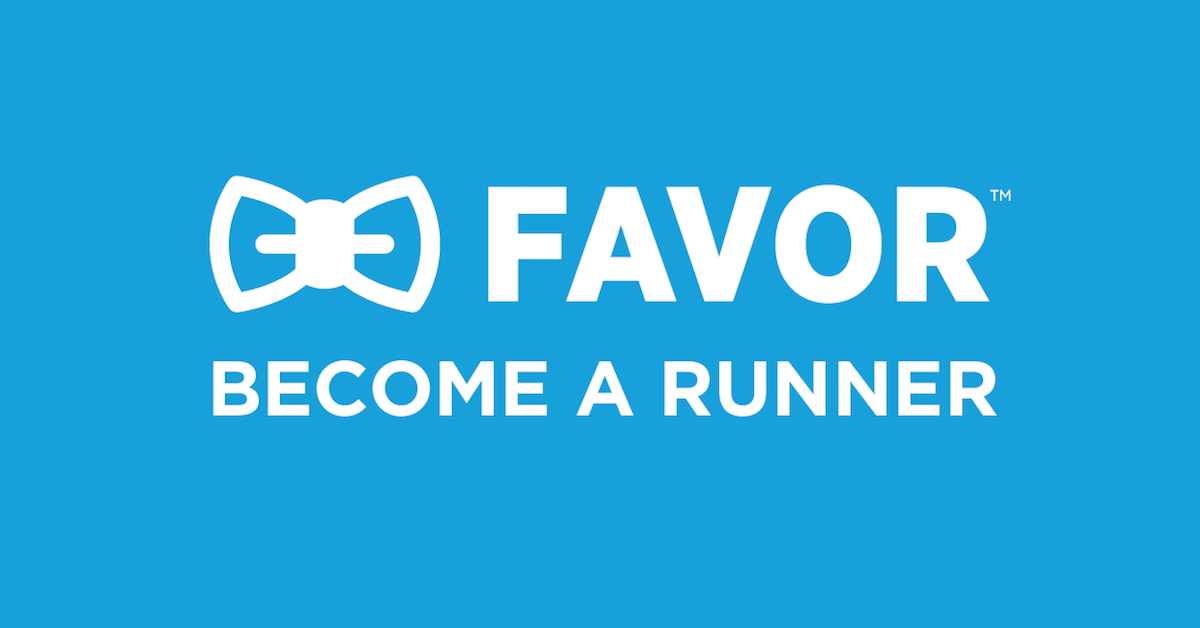 Requirements to Become a Favor Runner
So if you want to be a Favor runner, you have to be eighteen years or older and must have an android or an iPhone to access the app.
Then, the transportation is your own. You need to own a bike, scooter, or a car to perform the deliveries. The last part of qualifying as a Favor runner is a basic background check which the company does as a routine to have a little back knowledge about its employees.
So there isn't much you need. If you have a valid ID and a licensed vehicle that you can afford to run, you are all set to explore this avenue for making some income.
Other things to keep in mind before applying for the job of a Favor runner are:
Your vehicle, your fuel! You have to consider the expense of gas and other maintenance expenses as the company doesn't pay for those.
You may also need a cooler or something to keep the deliveries piping hot and fresh as you drop them off the customers' doors.
The app works pretty fast; as soon as there's an order, you need to act quickly; otherwise, the other Favor Runners will get a head start on it.
So is Favor really worth it for Runners?
Let's take a look at the benefits it offers for the Favor runners and some of the drawbacks to decide.
Favor Delivery Driver – Payment
Favor has a strictly defined payment structure and gives 35% of all proceeds to the Favor Runners. There's also a bonus of $100 offered upon completion of every 10th delivery. However, getting that is not as easy as it sounds!
The Favor runner gets a minimum of $9 for the work. So, that's the minimum you'd be making. Add in all the tips, and the number of orders you'll get is a good amount for any delivery service.
However, the actual minimum average reported by the current runners is around $12/hour.
Benefits of Working for Favor App
You'll find a number of reviews by the actual runners of the app who love the unique flexibility and independence it offers compared to the other riding service companies.
Here are some of the benefits the Favor Runners love:
Flexibility
The app allows its riders the flexibility to choose their own timings. They can work whenever available and set their own working time and schedule.
Smooth Hiring
The hiring process is super smooth and pretty fast! There's a predefined criterion for choosing the riders, and once you fit in, you can start working even on the same day! There's no red tape and no hassle of documentation.
Bonus
Unlike many other apps, this one offers a great bonus to all its runners. Every time they complete ten deliveries, they get an instant $100 bonus!
100% Tips
All the tips you get, whether in money or prize from the customers, are yours to pocket. The company doesn't keep any share or percentage from it. That's a great point to explore with your regular customers; it's just another way to earn as a secondary source of income!
Drawbacks of Favor App
Although there are very few known disadvantages or drawbacks of the app, there are some areas the company can work on to improve its services for the clients and the Favor runners.
Vehicle Expenses
All the expenses concerning the ride have to be borne by the runner. The company provides no compensation for fuel and gas consumption or any maintenance and wear and tear.
Many runners have to suffer losses and lose more than half of their earnings trying to meet these expenses. It would be helpful if the company looked into the matter and worked on making some policies for helping out their runners.
App Glitches
Some of the runners have experienced an occasional glitch or two when using the app. Since time is of the essence and so many runners are hoping to find a spot to serve the customers, many opportunities are lost if the app malfunctions.
The software should be looked into in order to provide a smooth experience to customers as well as Favor Runners.
Limited Cities
Although the app seems to have expanded its operations, right now, they are serving Texas only. Currently, the service is expanded beyond the Lone Star State to the nearby 100 cities only. However, the rest of the states and even the whole world is a vast opportunity, untapped to date.
How Favor App Works
Favor app works more like a delivery app that provides its users with tacos, dry cleaning, groceries, and other items on the door.
However, they have a niche; they offer more personalized services than other traditional delivery services.
To know-how, let's look at how it all begins on the app.
User Logs In
So first, the user downloads the app or logs on to the Favor Delivery website. Then, they look through the available options and place the order.
Order Acceptance
Now, as soon as the order is placed, the Runners take up the order.
The good thing is the customer and runner are in direct contact; they can call and text easily, so there isn't any red tape or undesired delays in case of any issues with the order. Since the company ensures all deliveries are timely and efficiently made; within an hour.
Collection of the Order
The Favor Runner then goes to collect the order. As discussed, they use their own bike, car, or other means of transportation to do so.
Delivery
Once the order is collected, the runner is on route to deliver it to the customers' door. Upon successful delivery, the runner gets paid for the order – along with tip – and the process is complete.
Employee Benefits
Apart from the bonuses, Favor also offers its Runners some additional perks like:
Jiffy Lube discounts
Everlance Premium expense tracking software – a three-month allowance.
The perks reset depending on the availability of other offers. In addition, employees are notified via email whenever the company announces new offers or discounts.
How to Become a Favor Runner?
There are a few steps you need to take if you wish to become a Favor Runner.
Sign Up
The first thing you need to do is fill out the application form. It is a basic form easily available on the website. All you need to do is enter your preliminary information like:
Your complete name
Email and Phone number
Area Zip code, and
Password
Online Orientation
The next step requires completing online orientation. This is in the form of a presentation that gets you acquainted with the basic information and guidance on how you can start working as a Favor Runner.
It is a ten-minute orientation and covers all business domains concerning the Favor Runners, like payment process, setting up the account, scheduling, and other tips on maximizing your earnings using the app.
Background Check
In this step, your social security number will be used to do a little background check on the candidate. Favor App uses Chekr service, which is a third-party service to look up any offenses or crimes listed against an individual.
The common offenses which lead to filtering out the candidates include:
Theft or damage to public property
Sexual harassment
Any traffic citations – recent or within the last seven years
Over two moving violations in the past three years
Violent crimes
Any felonies or misdemeanors in the past seven years
Account Activation
Now once your application is approved, after getting through all the above phases, you will get the Runner status activated on your account. As soon as you get this status, you can start working right away!
Usually, it takes about a day for Favor to approve accounts.
Favor App – Competitors
Now one drawback of Favor App is its limited area-wise service. So if you are in a different area where they do not provide their services, you can find many other alternatives you can try instead. Here are some of the highly-rated competitors of Favor:
Instacart: It is a delivery service for grocery and other related goods.
Uber Eats: Another popular gig delivery service that many gig workers sign up for.
Doordash: Doordash offers delivery services across many states. They offer food, restaurant, alcohol, etc., delivery services.
Is Favor App Legit?
Favor app has a good overall rating across different rating sites. Like it scores 3.7 on Indeed, 4.5 on  Google Play, and 4.6 on the App Store.
Most of the Favor Runners unanimously agree on the legitimacy and working of the site. The prime benefit it offers is the ability to use it according to their schedule whenever they like.
Plus, it pays! Often the amount is much higher than the other competing sites. Moreover, the bonus and other subtle perks are also attractive for the runners.
If we keep the app's drawbacks aside (quite easy to do since there are just a few of these), Favor is a great app to work with. It's safe and legit, no doubts about that!
Frequently Asked Questions
How much do Favor drivers make?
All Favor Runners earn 35% from each delivery amount. Plus, all the tips they get from the customers are theirs to keep.
Moreover, $9 is the bare minimum you can earn on Favor. Then there are bonuses like for every tenth delivery you get $100.
On average, most runners earn from $9-$10 on regular days and $12 to $18 on busy days.
How can you become a Favor Runner?
You can be a Favor Runner if you meet the basic criteria they have for all the Runners, i.e.,
Your age must be eighteen years or up
You must have a valid driving license
Own a bike, car, or another vehicle for deliveries
Must have an android or iPhone
Individuals must have a bank account
The company will also conduct a background check on the candidates for the job.
How is the experience of working for Favor?
When we weigh the pros and cons of the app, it is a great place to earn some secondary income – it works more like a side job. However, while the income you make is substantial compared to other riding services, it won't be enough to meet your daily expenses. You need to have a regular full-time job alongside it.
However, thanks to the flexible working hours and the liberty to choose the working time and schedule according to your preference, it is quite easy to work on it.
Conclusion
All in all, Favor delivery service has earned a great reputation for servicing its customers and as a hiring company. On one end, they are well-liked for their reliability, service, and for ensuring timely deliveries.
On the other end, the Favor Runners love the app as a great opportunity to have a secondary income.